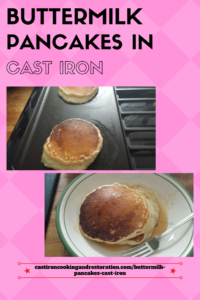 Dry Ingredients
9.5 oz Sifted King Arthur All-Purpose Flour in a medium size bowl (original recipe calls for 10oz or 2 Cups)
2 TBL granulated sugar
1 tsp Baking Powder
1/2 tsp Baking Soda
3/4-1 tsp fine salt (I use King Arthur Bread Salt or Real Salt. Original recipe calls for 1/2 tsp
– combine dry ingredients by sifting/whisking.
Wet ingredients
2 Cups Buttermilk in a quart size measuring cup (possibly more to thin the batter)
1/4 Cup Sour Cream
2 Eggs, Beaten
3 TBL (44 grams) Melted, Cooled Butter
Heat the Oven to 250 to keep pancakes warm, use a large skillet or oven-safe glass dish. Heat up desired maple syrup, fruit syrup, etc. Melt the butter, set aside. Beat the eggs and combine with the buttermilk and sour cream in a quart-size measuring cup. Add the melted butter. Add the wet ingredients to the dry ingredients and combine with a whisk, leaving some lumps, add additional buttermilk if too thick. Let sit 10 minutes while you heat your cast iron griddle. Turn the burners onto medium-medium high. Let preheat for around 6-8 minutes. A little smoke coming off is okay. Turn burners down. Take a ladle of batter and pour quickly and keep pouring from the center. Use a stainless steel thin spatula to see how quickly the cakes are cooking. After a minute or so, you want to see medium brown. I often put butter on the pancakes while they are still on the griddle.
-Recipe adapted from America's Test Kitchen.
Enjoy!